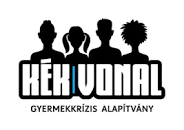 Updated at: 2023/05/09
The Kék Vonal (Blue Line's) helpline for children, young people and their parents is now available in Ukrainian and Russian. The anonymous and toll-free (from the Hungarian network) helpline is staffed by trained counsellors who are ready to take enquiries on any topic you would like to talk to someone about.   
Our foundation has been running a free, anonymous helpline for teenagers and young adults up to the age of 24 since 1993. We provide a toolkit of supportive conversations to support young people who come to us and adult relatives who are looking for counselling, emotional support or information about a child's issues. 
We have also recently launched a Ukrainian and Russian-language counselling line for children and young people living in our country who are refugees from Ukraine and for parents who are concerned about their children.  
Free service
Languages spoken: Hungarian, Ukrainian, Russian 
Other information: female staff, shared toilets, building not barrier-free
Opening Hours
Tuesday open from 16:00 to 20:00
Thursday open from 16:00 to 20:00
Contact Information
email: ukraine@kek-vonal.hu
facebook_messenger: https://www.facebook.com/kekvonal/
instagram: https://www.instagram.com/kekvonal
phone: 3680984590
website: https://ua.kek-vonal.hu/
Click here to see the address in GoogleMaps.